About me
ArtfulJax
My name is Jax and I am the owner of ArtfulJax. I am a 25 year old mother of two beautiful boys with special needs. My oldest son is on the autism spectrum and needs me home full time, so this is how my small business came to be. My children are my inspiration along with my everlasting love for the arts and of course, crystals. I have always had a love for art, nature, crystals and spreading positivity. This small business is a way for me to combine everything I love all into one simple space.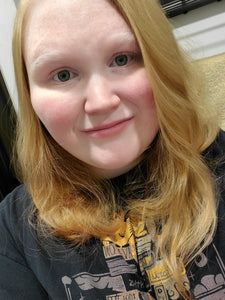 Shipping Policy
Orders are almost always shipped out within 3-5 days of being purchased. Shipping times vary depending on shipping carrier and service selected. Once an item has been placed into the hands of the postal service, it is no longer my responsibility. If an item is returned to sender, the item can be resent if the buyer is willing to pay new shipping costs. No returns or refunds unless in the case of a wrong item being sent. Shipping days are Monday's and Thursday's.
Each order comes with a free squishy. These may look delicious, but they are NOT edible. Please don't eat them, they are your friend and wish not to be eaten.
Due to Covid-19, please anticipate possible delays as stated on the USPS website.